Ep. 441: The Seventh Pillar of Self-Esteem – (Part 1) The Best Year Ever
---
IMPORTED FROM SCHOOLSUCKSPROJECT.COM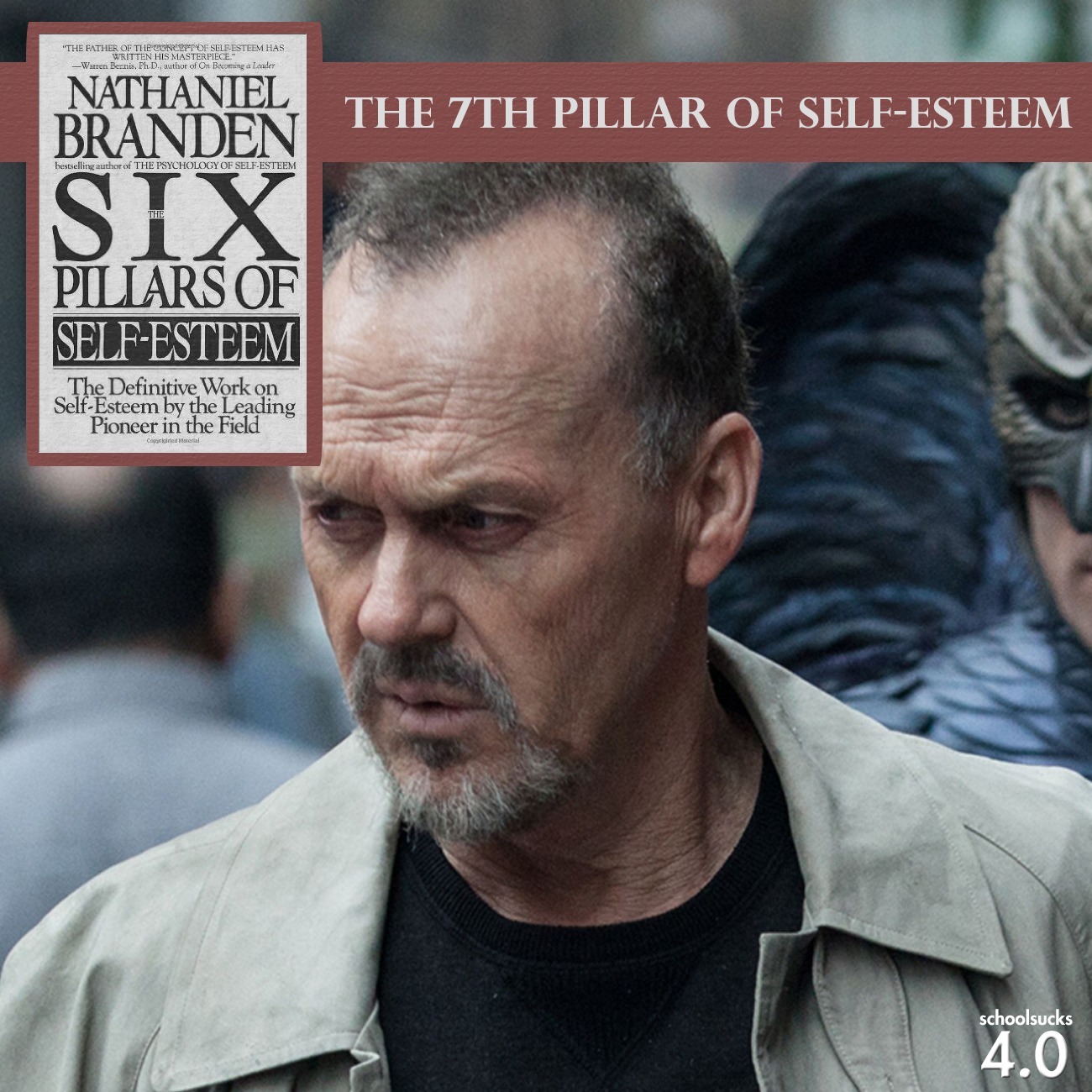 SchoolSucksProject.com – Education Evolution
Wes Bertrand and I reboot our series based on Nathaniel Branden's book, Six Pillars of Self-Estee…
Wes Bertrand and I reboot our series based on Nathaniel Branden's book, Six Pillars of Self-Esteem. This extension to the original series focuses on Branden's concluding chapter and what he calls the "seventh pillar." We will be reviewing each of the six pillars; the previous discussions focused on the what and the why of those practices, and this time we turn our attention to the how.
INTRO MONTAGE:
In these conversations, we will integrate some of the lessons from our 2015 series on trauma and Internal Family Systems (Adverse Childhood Experiences and Resilience) with Branden's concept of the disowned self. The 2014 film Birdman provides a fine example.
DISCUSSION:
– Turning the Six Pillars into habit
– An explanation of the Seventh Pillar
– A review of the Six Pillars
– What is high self-esteem?
– Why self-knowledge is vital subset of self-directed learning
THE SIX PILLARS OF SELF-ESTEEM
1. The Practice of Living Consciously
2. The Practice of Self-Acceptance
3. The Practice of Self-Responsibility
4. The Practice of Self-Assertiveness
5. The Practice of Living Purposefully
6. The Practice of Personal Integrity
Bumper Music:
Dylan LeBlanc – "Cautionary Tale"
The Who – "Let's See Action"
moe. – "The Road"
Look Closer:
Complete Liberty Podcast
NathanielBranden.com
Derek Sivers on Developing Confidence, Finding Happiness, and Saying "No" to Millions
Derek Sivers Reloaded – On Success Habits and Billionaires with Perfect Abs
Happiness Counseling Resource Page
The Six Pillars of Self-Esteem (pdf)
Here's a new way to incentivize our production of educational content.
Please Support School Sucks
Our Amazon Wish List
Donate With Bitcoin
Or Join the A/V Club
Your continued support keeps the show going and growing, which keeps us at the top of the options for education podcasts and leads to new people discovering this message. This subscription also grants you access to the A/V Club, a bonus content section with 200+ hours of exclusive audio and video.
If you are a regular consumer of our media, please consider making a monthly commitment by selecting the best option for you…
A/V Club – Basic Access – $8.00/Month
AP Club – "Advanced" Access – $12.00/Month
Sigma Sigma Pi – Full Access – $16.00/Month
Original source: https://www.podomatic.com/podcasts/schoolsucks/episodes/2016-07-15T13_35_13-07_00
Follow Independent News on: