Ep. 447: The Enemy of My Enemy Is My Friend – A New Analysis of The Breakfast Club
---
IMPORTED FROM SCHOOLSUCKSPROJECT.COM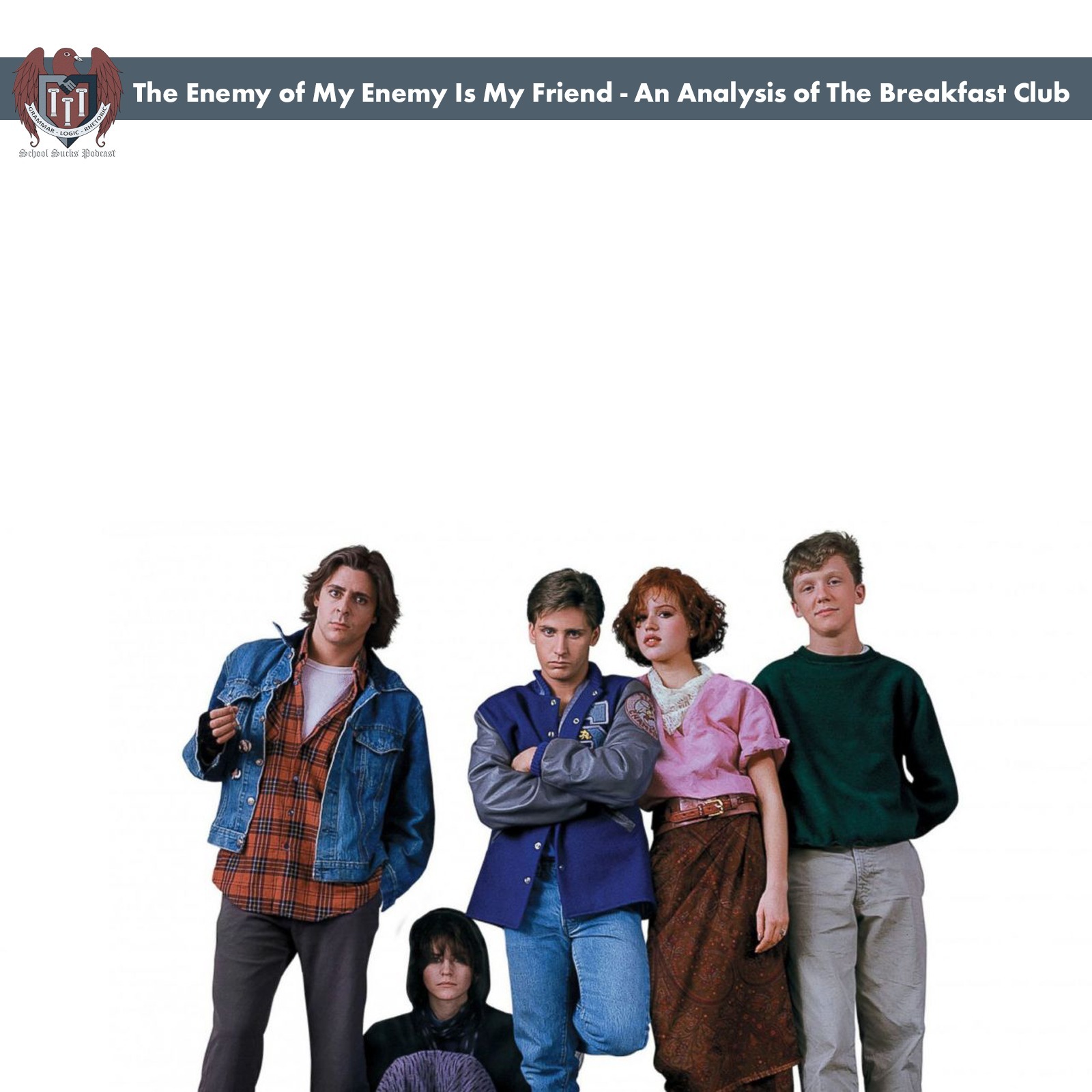 SchoolSucksProject.com – Education Evolution
This is my collaboration with Patrick and Ady of The Philosophy Film Club. Our subject of discuss…
This is my collaboration with Patrick and Ady of The Philosophy Film Club. Our subject of discussion is a film that both defined the teen movie genre and (appropriately) broke its rules.
See Brett's Notes For This Production
THE CHARACTERS (10:30-46:30)
-Our identification with characters in the film
-Who were our teachers and how did they get there?
-The importance of Vernon and Bender
THEIR RELATIONSHIPS WITH EACH OTHER (46:30-1:02:30)
-Social pressures
-Stereotypes and barriers
-Missed opportunities for meaningful relationships
-Sharing pain in a domination system
THE IMPACT OF SCHOOL AND HOME ENVIRONMENTS (1:02:30-1:32:45 )
-How John Hughes connects the audience to the attitudes and experience of the characters
-Parenting typologies represented in the film (authoritarian, permissive, neglectful)
-Authoritative "power-with" parenting is absent
-What lunchtime reveals
-Hughes adds a lot of non-dialog messages
-How their relationships with each other are used to overcome the impacts of school and home (even if it's only temporary)
PSYCHOLOGICAL THEMES (1:32:45-1:53:45)
-Bender: Abuse and trauma – fight, flight, freeze
-The Nurture Assumption and Judith Rich Harris's "Cinderella effect"
-The significance of Carl the janitor
-Alpha/Beta representations: Andy and Bender/Brian
-Vulnerability
CONCLUSION (1:54:45-END)
-Long-term impact and unanswered questions
-Remake?
-Sequel?
-How Hollywood stereotypes teens
Music:
Green Day – "Longview"
Tears For Fears – "Everybody Wants To Rule the World"
The Wind and The Wave – "Don't You Forget About Me"
Those Darn Accordions – "The Janitor Knows"
Look Closer:
Ady's Life Coaching Site and email: realtimelifecoaching@yahoo.com
The Philosophy Film Club On YouTube
Please Support School Sucks
Our Amazon Wish List
Donate With Bitcoin
Or Join the A/V Club
Your continued support keeps the show going and growing, which keeps us at the top of the options for education podcasts and leads to new people discovering this message. This subscription also grants you access to the A/V Club, a bonus content section with 200+ hours of exclusive audio and video.
If you are a regular consumer of our media, please consider making a monthly commitment by selecting the best option for you…
A/V Club – Basic Access – $8.00/Month
AP Club – "Advanced" Access – $12.00/Month
Sigma Sigma Pi – Full Access – $16.00/Month
Original source: https://www.podomatic.com/podcasts/schoolsucks/episodes/2016-08-23T21_24_25-07_00
Follow Independent News on: