Ep. 597: The Apprenticeship Path Around College Debt
---
IMPORTED FROM SCHOOLSUCKSPROJECT.COM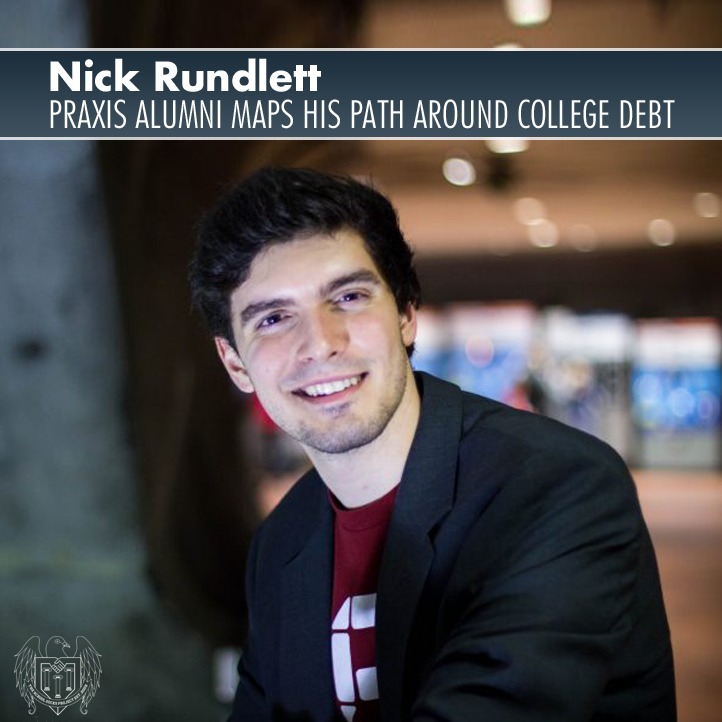 SchoolSucksProject.com – Education Evolution
There's big money and big opportunity in sales, even without 4 to 6 years of additional schooling…
There's big money and big opportunity in sales, even without 4 to 6 years of additional schooling. Unfortunately, the only six-figure number too many twenty three-year-olds are looking at is on a collections letter from the Department of Education.
Today's guest presents the story of his exciting and rewarding alternate path.
Nick Rundlett is the first Praxis alumni that I've had the pleasure to interview on School Sucks. He's also a long-time listener of the show.
We open our conversation talking about Nick's high school experience, including a long captivating tangent into his explanation of "impromptu Speech" competitions. For Nick, high school was an often undemanding path to college, and college merely the path to a career. He opted for community college to save money, and we'll talk about why he decided to drop out right at the end, one summer semester away from completion.
Nick began running his own business as a teenager, and this experience made him hungry gain more sales skills and experience. This desire led Nick to Praxis.
He explains how the Praxis admissions and subsequent training program work. Praxis encourages the building a value proposition for a desirable employer instead of the submitting of the traditional resume. I ask how a participant's interests are matched with the right company's needs.
More of Nick's Praxis Experience:
– Habit-building
– The Praxis mission and culture
– Adopting the entrepreneurial mindset as an employee/apprentice
– Avoiding professional lessons through trial by fire
The Value of Sales Skills and Experience
– My Dad's sales formula: establishing a rapport, analyzing needs and making an honest recommendation (we'll discuss each one)
– Nick counsels me on my long-time aversion to sales
– overcoming the fear of rejection and negative self-talk
– we apply Nick's sales wisdom to the future of School Sucks
Please Support School Sucks
We do cool things! Thanks to your support.
School Sucks is one of the longest running liberty-minded podcasts on the web, and the only one completely devoted to the issue of education (versus public school and college). Your support keeps the show going and growing, which keeps us at the top of the options for education podcasts and leads to new people discovering our work. Please help us continue to spread this important message further!
Thanks for visiting this page. Before you do anything, please bookmark and use this link for your Amazon shopping: Shop With Us
One-Time Donation Options:
Paypal/Venmo;
Donate DASH
Donate ETHEREUM
Donate LITECOIN
Donate BITCOIN
Donate BITCOIN CASH
Donate ZCASH
Recurring Options:
Support Us On PATREON
Help incentivize our production! Pledge $1 per content item and access dozens of Patron only audios and videos.
Join the A/V Club
If you're looking for more School Sucks content, the A/V Club option grants you access to a bonus content section with 400+ hours of exclusive audio and video. If you are a regular consumer of our media, please consider making a monthly commitment by selecting the best option for you…
A/V Club – Basic Access – $8.00/Month
A/V Club – "Advanced" Access – $12.00/Month
Sigma Sigma Pi – "Privileged" Access – $16.00/Month

Crypto Addresses:
DASH; XcZfPP6GZGVo9VKViNBVJZja5JVxZDB229
ETHEREUM; 0x3c5504CE3401C028832173506fa30BD4db4b7D35
LITECOIN; LKNp24f5wwvZ2QzeDbvxXgBxyVwi1yXnu2
BITCOIN; 1KhwY836cfSGCK5aaGFv8Q7PHMgghFJn1U
BITCOIN CASH 1AmqLVxjw3Lp9KT5ckfvsqfN2Hn3B1hCWS
ZCASH; t1by1ZGJ63LoLSjXy27ooJtipf4wMr7qbu4
Original source: https://www.podomatic.com/podcasts/schoolsucks/episodes/2019-02-05T08_13_04-08_00
Follow School Sucks Project on: