Ep. 598: Human Restoration Inside the School System?
---
IMPORTED FROM SCHOOLSUCKSPROJECT.COM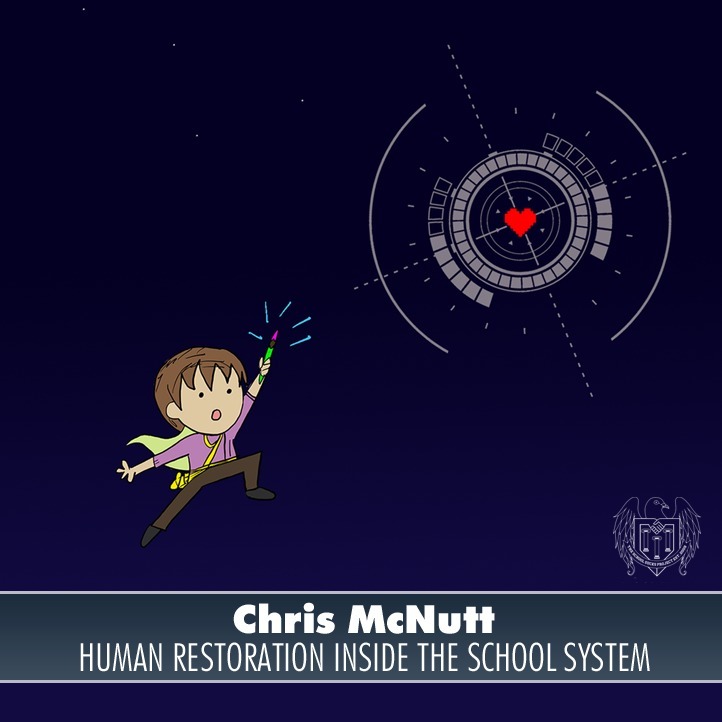 SchoolSucksProject.com – Education Evolution
We've talked a little in the past about school survival. But we haven't given enough attention to…
We've talked a little in the past about school survival. But we haven't given enough attention to those who work inside the schools to make them more survivable.
My guest is Chris McNutt, a public school teacher and one of the founders of the Human Restoration Project. HRP is an educational movement to transform school systems, restoring students as human beings rather than a vessel for standards. The organization focuses on school reform, offering personalized professional development services and various materials geared toward changing mindsets in education. Chris is also the host of a progressive education-focused podcast called Things Fall Apart.
So…what happens next? Do we fight?
No. But I do ask for clarity on the term "progressive education." Chris explains it as transition from traditional compulsory schooling to a student-centered focus and to the embrace of three core values.
1. passion is central to education
2. the embrace of creativity
3. the promotion of non-standardized learning
We agree that the public schools are reducing humans into vessels of content rather than embracing their humanity, but I express skepticism about the possibility of true reform. I have no conception of how the current system could ever deliver the results Chris and I both find desirable.
We also discuss helping young people think about and find purpose. But this is deep work; is it too invasive a job for the public schools?
Chris and I have similar stories from our teaching careers. He became very disillusioned early on, and he embarked down a new path away from the traditional expectations of a public school teacher. We also both experienced a kind of savior complex that set us up for failure and disappointment early in our careers. We'll discuss this and much more.
Please Support School Sucks
We do cool things! Thanks to your support.
School Sucks is one of the longest running liberty-minded podcasts on the web, and the only one completely devoted to the issue of education (versus public school and college). Your support keeps the show going and growing, which keeps us at the top of the options for education podcasts and leads to new people discovering our work. Please help us continue to spread this important message further!
Thanks for visiting this page. Before you do anything, please bookmark and use this link for your Amazon shopping: Shop With Us
One-Time Donation Options:
Paypal/Venmo;
Donate DASH
Donate ETHEREUM
Donate LITECOIN
Donate BITCOIN
Donate BITCOIN CASH
Donate ZCASH
Recurring Options:
Support Us On PATREON
Help incentivize our production! Pledge $1 per content item and access dozens of Patron only audios and videos.
Join the A/V Club
If you're looking for more School Sucks content, the A/V Club option grants you access to a bonus content section with 400+ hours of exclusive audio and video. If you are a regular consumer of our media, please consider making a monthly commitment by selecting the best option for you…
A/V Club – Basic Access – $8.00/Month
A/V Club – "Advanced" Access – $12.00/Month
Sigma Sigma Pi – "Privileged" Access – $16.00/Month

Crypto Addresses:
DASH; XcZfPP6GZGVo9VKViNBVJZja5JVxZDB229
ETHEREUM; 0x3c5504CE3401C028832173506fa30BD4db4b7D35
LITECOIN; LKNp24f5wwvZ2QzeDbvxXgBxyVwi1yXnu2
BITCOIN; 1KhwY836cfSGCK5aaGFv8Q7PHMgghFJn1U
BITCOIN CASH 1AmqLVxjw3Lp9KT5ckfvsqfN2Hn3B1hCWS
ZCASH; t1by1ZGJ63LoLSjXy27ooJtipf4wMr7qbu4
Original source: https://www.podomatic.com/podcasts/schoolsucks/episodes/2019-02-11T18_45_19-08_00
Follow School Sucks Project on: