Ep. 599: Nathan Fraser – Anatomy of A Failed Passion Project
---
IMPORTED FROM SCHOOLSUCKSPROJECT.COM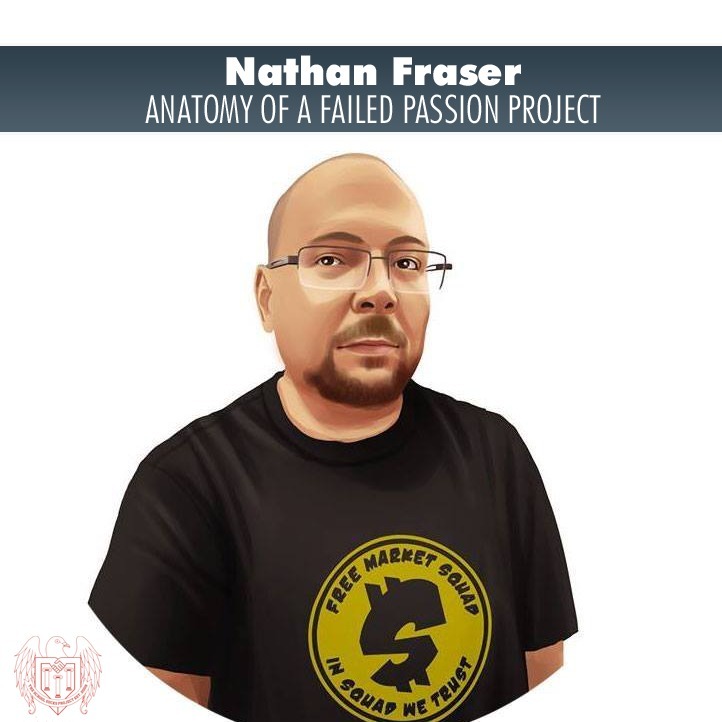 SchoolSucksProject.com – Education Evolution
Nathan Fraser and I have both been participants and critical observers of an interesting scene ov…
Nathan Fraser and I have both been participants and critical observers of an interesting scene over the last decade. During that time we've watched, and participated in, projects driven by a passion for liberty but doomed by a lack of foresight and direction. Today we'll discuss how a libertarian passion project can find a way to outwit the devil. We'll explain.
Why are so many liberty activists attracted to entrepreneurship?
The connection here is kind of obvious, but if freedom is the sole priority
we risk becoming what Napoleon Hill called "aimless drifters."
A Lesson From A Book Called The $100 Start-Up:
Passion is only a third of the whole equation; you also need skills and customers. For a passion to become more than a hobby, we need to need focus on income and costs.
in other words, keep your day job at first, and learn skills that support your passion.
What are the most common reasons activists fail at business ownership?
A lesson from a book called The E-Myth:
Having great technical skills or knowledge does not mean you can run a business. If you're not ready to contemplate and embrace all the roles of running a business, you'll wind up driving yourself crazy.
Don't confuse entrepreneurship with agorism. Agorism doesn't scale.
How can you tell if your business idea is worth pursing?
– Always validate your business ideas
– Look in places where people are already making money
– Test the interest in your big idea through a series of smaller commitments
More About Nathan Fraser:
The Free Market Squad: The Mastermind Group
Need Help Growing Your Business? CopyandFunnels.com
A Free guide to stop losing sales on your online store
Please Support School Sucks
We do cool things! Thanks to your support.
School Sucks is one of the longest running liberty-minded podcasts on the web, and the only one completely devoted to the issue of education (versus public school and college). Your support keeps the show going and growing, which keeps us at the top of the options for education podcasts and leads to new people discovering our work. Please help us continue to spread this important message further!
Thanks for visiting this page. Before you do anything, please bookmark and use this link for your Amazon shopping: Shop With Us
One-Time Donation Options:
Paypal/Venmo;
Donate DASH
Donate ETHEREUM
Donate LITECOIN
Donate BITCOIN
Donate BITCOIN CASH
Donate ZCASH
Recurring Options:
Support Us On PATREON
Help incentivize our production! Pledge $1 per content item and access dozens of Patron only audios and videos.
Join the A/V Club
If you're looking for more School Sucks content, the A/V Club option grants you access to a bonus content section with 400+ hours of exclusive audio and video. If you are a regular consumer of our media, please consider making a monthly commitment by selecting the best option for you…
A/V Club – Basic Access – $8.00/Month
A/V Club – "Advanced" Access – $12.00/Month
Sigma Sigma Pi – "Privileged" Access – $16.00/Month

Crypto Addresses:
DASH; XcZfPP6GZGVo9VKViNBVJZja5JVxZDB229
ETHEREUM; 0x3c5504CE3401C028832173506fa30BD4db4b7D35
LITECOIN; LKNp24f5wwvZ2QzeDbvxXgBxyVwi1yXnu2
BITCOIN; 1KhwY836cfSGCK5aaGFv8Q7PHMgghFJn1U
BITCOIN CASH 1AmqLVxjw3Lp9KT5ckfvsqfN2Hn3B1hCWS
ZCASH; t1by1ZGJ63LoLSjXy27ooJtipf4wMr7qbu4
Original source: https://www.podomatic.com/podcasts/schoolsucks/episodes/2019-02-20T07_15_28-08_00