Ep. 608: Is It Time To Give Up On Millennials? With Aaron Clarey
---
IMPORTED FROM SCHOOLSUCKSPROJECT.COM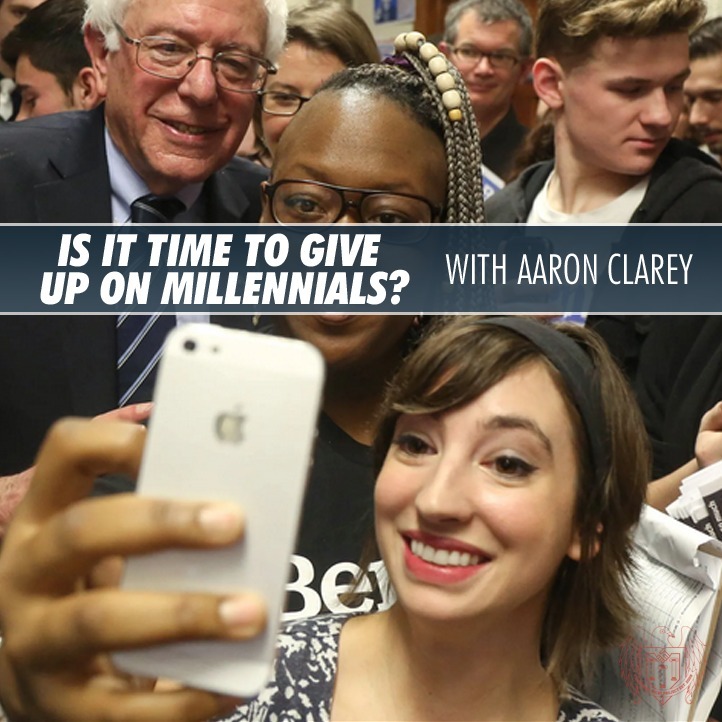 SchoolSucksProject.com – Education Evolution
A whole generation? Is that even a fair question? Today's discussion is a series of polite disagr…
A whole generation? Is that even a fair question? Today's discussion is a series of polite disagreements and even politer agreements with Aaron Clarey, who argues the answer to that question is yes.
One huge point of agreement: marketing and advertising are both getting increasingly obnoxious and aggravating as large corporations move their targeting to woke Millennials.
The center of our disagreement: are most Millennials (and even many Gen-Xers like Aaron and myself) even in search of a purpose? Or has leftist politics prevented such a quest from ever happening?
Bio: Aaron is a motorcycle riding, ballroom dancing, fossil hunting, mountain climbing, economist. He spent 15 years in the banking industry to learn that work sucks, life is short, and it was not meant to be spent in a cube suffering the idiots of corporate America. He left and has since pursued a career in writing, consulting, ballroom dancing, and hedonism.
The outgrowth of Aaron's lessons includes a variety of successful media platforms:
AaronClarey On YouTube
Captain Capitalism Blog
Asshole Consulting
Older Brother Podcast
Aaron's books include Worthless, a real-world assessment about the economic realities and consequences of choosing various degrees, and the Curse of the High IQ. The latter identifies and addresses a litany of problems intelligent people face, and it provides solutions. But more importantly it aims to bring sanity to those who struggle with abnormal intelligence, especially those who are unaware they have it.
He's here today to discuss his blog article Selling Millennials Their Purpose, Agency, and Reason in Life.
Also…
– Don't put handles on a whole group of people to move them around as one unit; this is what we're being critical of (politicians, schools and corporations)
– SELF-ESTEEM: The new age self-esteem movement said "If you want kids to have self-esteem here's what you need to tell them" while Nathaniel Branden asserted that if people want self-esteem there's a series of actions they need to take
– why are Millennials miserable? by default they're "acceptional" and entitled
– LinkedIn Study: Only 30 percent of Millennials prioritize purpose over work and income, compared to 48 percent of baby boomers.
– The Social Justice War – signal that every real problem has been solved for most people, they're left to do 60s protest reenactments
– SJWs are a small percentage of Millennials, but they are barometer of the political attitudes of the generation; most are just too apathetic
– Brand Purpose, marketing to Millennials
Please Support School Sucks
We do cool things! Thanks to your support.
School Sucks is one of the longest running liberty-minded podcasts on the web, and the only one completely devoted to the issue of education (versus public school and college). Your support keeps the show going and growing, which keeps us at the top of the options for education podcasts and leads to new people discovering our work. Please help us continue to spread this important message further!
Before you do anything, please bookmark and use this link for your Amazon shopping: Shop With Us
One-Time Donation Options:
Paypal/Venmo;
Donate DASH
Donate ETHEREUM
Donate LITECOIN
Donate BITCOIN
Donate BITCOIN CASH
Donate ZCASH
Recurring Options:
NEW! SubscribeStar
Access our personal development bonus show, The Discomfort Zone, and lots of other irreverent and acerbic commentary you've never heard before.
Support Us On PATREON
Help incentivize our production! Pledge $1 per content item and access dozens of Patron only audios and videos.
Join the A/V Club
If you're looking for more School Sucks content, the A/V Club option grants you access to a bonus content section with 400+ hours of exclusive audio and video. If you are a regular consumer of our media, please consider making a monthly commitment by selecting the best option for you…
A/V Club – Basic Access – $8.00/Month
A/V C(continued)
Original source: https://www.podomatic.com/podcasts/schoolsucks/episodes/2019-04-23T08_50_45-07_00
Follow School Sucks Project on: