Ep. 630: School Has Robbed Young People of Their "Why"
---
IMPORTED FROM SCHOOLSUCKSPROJECT.COM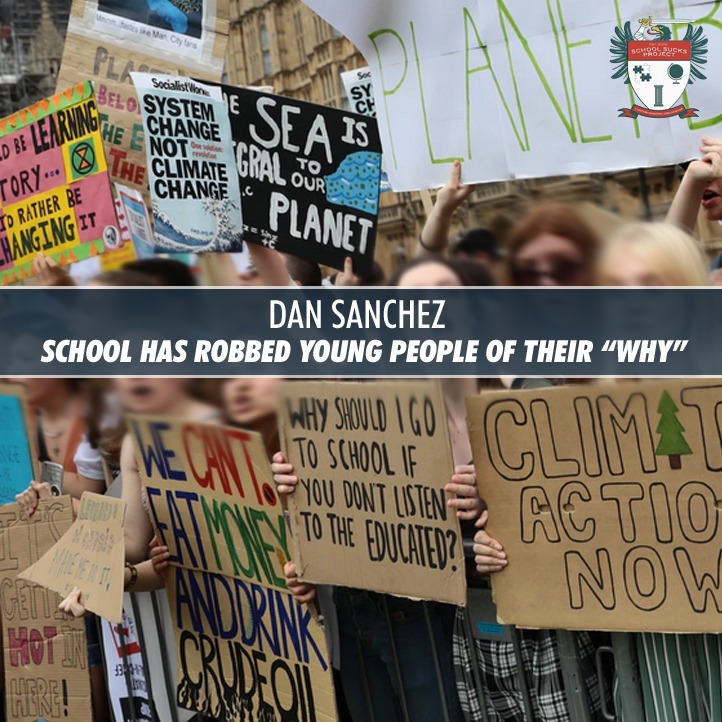 SchoolSucksProject.com – Education Evolution
Dan Sanchez is the Director of Content at the Foundation for Economic Education (FEE) and the edi…
Dan Sanchez is the Director of Content at the Foundation for Economic Education (FEE) and the editor-in-chief of FEE.org. Dan is also the main writing coach for our friends at Praxis.
He joins me today for a fresh take on a familiar problem: young people are drowning and purposelessness, searching for meaning. Political operators, tech giants, and disingenuous marketers are happy to tap into that desire and angst for their own exploitative purposes, offering young people a pre-packaged "why."
John Taylor Gatto said
"Whatever an education is, it should make you a unique individual, not a conformist; it should furnish you with an original spirit with which to tackle the big challenges; it should allow you to find values which will be your roadmap through life; it should make you spiritually rich, a person who loves whatever you are doing, wherever you are, whomever you are with; it should teach you what is important, how to live and how to die."
Instead schools are teaching dependence. And schools are producing mobs.
Students are not given adequate encouragement in authoring their own lives, with too many of them surrendering to the K-12 to college to work pipeline. Along the way, they're handed causes to embrace without question, and thus made useful to various manipulators who don't care about them.
Dan and I discuss how these young people can find their way, to rebuild their rudders and develop their own "why." Dan offers advice to both parents and educators.
Related Articles by Dan Sanchez:
School Has Robbed Young People of Their "Why"
Spark and Fuel: How to Help Your Child Learn without Resorting to Compulsion
Parents Can Trust Kids to Teach Themselves
The downloadable version of The Ideas Into Action Summit is now available. You can learn more about the presenters, topics, bonus materials and encore presentation HERE.
Please Support School Sucks
We do cool things! Thanks to your support.
School Sucks is one of the longest running liberty-minded podcasts on the web, and the only one completely devoted to the issue of education (versus public school and college). Your support keeps the show going and growing, which keeps us at the top of the options for education podcasts and leads to new people discovering our work. Please help us continue to spread this important message further!
Before you do anything, please bookmark and use this link for your Amazon shopping: Shop With Us
One-Time Donation Options:
Paypal/Venmo;
Donate DASH
Donate ETHEREUM
Donate LITECOIN
Donate BITCOIN
Donate BITCOIN CASH
Donate ZCASH
Recurring Options:
NEW! SubscribeStar
Access our personal development bonus show, The Discomfort Zone, and lots of other irreverent and acerbic commentary you've never heard before.
Support Us On PATREON
Help incentivize our production! Pledge $1 per content item and access dozens of Patron only audios and videos.
Join the A/V Club
If you're looking for more School Sucks content, the A/V Club option grants you access to a bonus content section with 400+ hours of exclusive audio and video. If you are a regular consumer of our media, please consider making a monthly commitment by selecting the best option for you…
A/V Club – Basic Access – $8.00/Month
A/V Club – "Advanced" Access – $12.00/Month
Sigma Sigma Pi – "Privileged" Access – $16.00/Month

Crypto Addresses:
DASH; XcZfPP6GZGVo9VKViNBVJZja5JVxZDB229
ETHEREUM; 0x3c5504CE3401C028832173506fa30BD4db4b7D35
LITECOIN; LKNp24f5wwvZ2QzeDbvxXgBxyVwi1yXnu2
BITCOIN; 1KhwY836cfSGCK5aaGFv8Q7PHMgghFJn1U
BITCOIN CASH 1AmqLVxjw3Lp9KT5ckfvsqfN2Hn3B1hCWS
ZCASH; t1by1ZGJ63LoLSjXy27ooJtipf4wMr7qbu4
Original source: https://www.podomatic.com/podcasts/schoolsucks/episodes/2019-11-12T11_56_15-08_00