Ep. [preview] Revolting – 2 Clips
---
IMPORTED FROM SCHOOLSUCKSPROJECT.COM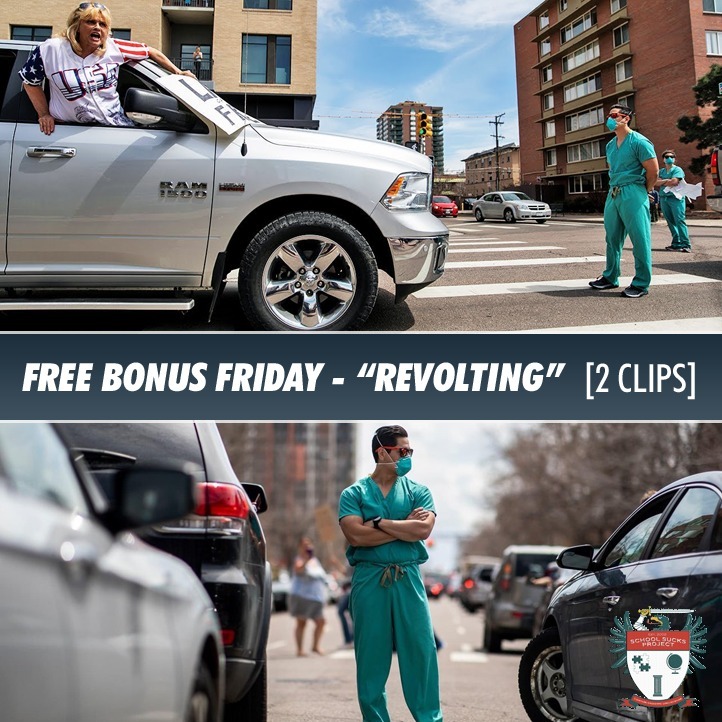 SchoolSucksProject.com – Education Evolution
Free Bonus Friday
Enjoy (and you will enjoy) a snip of one of our bonus productions for supporti…
Free Bonus Friday
Enjoy (and you will enjoy) a snip of one of our bonus productions for supporting listeners, including The Discomfort Zone, In Pursuit of Utopia, Picture of the Month Club, and other older selections.
Today: Two clips. The first comes from a recent members-only discussion I did for Nathan Fraser's Free Market Squad on several topics, including whether or not we'll see parents revolt against the current schooling system once they have a closer look at what their children are doing every day. The second clip comes from this week's AUTONOMY Mastermind. We discuss the recent quarantine revolt and the revolting mainstream media counter-narrative that followed.
Both are available to supporting listeners. Join us here: Patreon, A/V Club and SubscribeStar.
The downloadable version of The Ideas Into Action Summit is now available.
Visit sspuniversity.com/ideasintoaction to learn more about the presenters, topics, bonus materials and encore presentation.
Original source: https://www.podomatic.com/podcasts/schoolsucks/episodes/2020-04-24T03_33_37-07_00
Follow School Sucks Project on: